OH: BtS – Grace Cotton
Photography by

Dimetri Hogan

Exclusive for oui hours gmt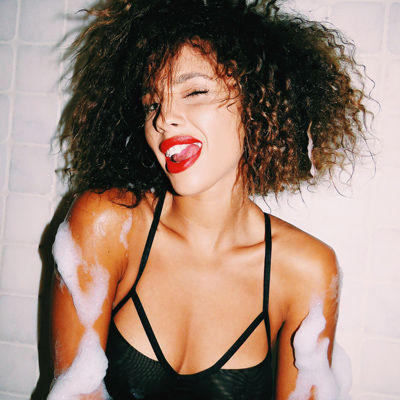 ---
"My self esteem
in my younger
years wasn't
the highest"
---
Were u always considered beautiful when growing up in Australia?
To be quite frank, not always! I had a unique childhood and upbringing in Australia due to the color of my skin, especially in a country where there is still a lot of underlying racism. Not only that but I also went to an all girls private school the majority of my high school life so bitchiness and bullying was unfortunately quite prevalent. From grades 5-8, I was only considered beautiful by the older girls at my school but the girls in my year constantly put me down because I was one of the only mixed girls in the school at the time. My self esteem in my younger years wasn't the highest but as the years progressed, so did their mentalities and mine. Grades 9-10, I started to realize men considered my exoticness beautiful so I became more comfortable in my skin and embraced my differences but funnily enough now the older girls were
threatened by that beauty and they too joined in with the put downs and exclusive behaviors. But my final years of high school, grade 11 and 12 were the best of my life – I think this is the time when everyone realizes life is only just about to begin and it's too short to criticize those who don't look like you etc because at the end of the day that attitude will only get you so far in life. I felt everyone embraced who I was, what I represented and they could finally see that I accepted myself unconditionally and had no doubts in myself anymore. Once you have that faith in yourself and you portray that energy to those around you, it becomes magnetic and no one can stop the power that is you.
Are promoters as important as bookers now in the modeling world?
Promoters and bookers are in a totally different ball park to each other. All though they both deal with models, bookers are on the professional scale where as promoters are on the entertainment scale. I guess the difference between bookers and promoters is that a promoter benefits from a good looking model where as a good model will benefit from the right booker. In the nightlife I guess it can definitely be beneficial for a model just starting out in the city who can't afford to pay rent – so she will stay in a promoter house where she has to go out X amount of times per week in order for her rent to be paid and in return the promoter gets a certain amount per model he brings to the club or restaurant. In my opinion I think either way you look at it, you are both helping each other and getting something out of it.
Are there modeling jobs you will not take?
As of right now, I have never been offered a modeling job that I won't take. Having said that I'm a very open-minded, free spirit and I don't like to say no to many things in life as that's how doors close but you can rest assured I will never do pornography or playboy. Anything that will degrade myself or disappoint my parents I try to steer clear of. Having said that I think it's always fun to do some sexy, playful and tasteful shoots every once in a while because everyone appreciates a beautiful body and a confident woman who can embrace every part of herself.
What piece of lingerie do you own that makes you feel the most powerful and sexy?
Oooh, that's tough! Honestly, I think there's nothing that makes me feel sexier than a pair of thigh highs and suspenders. I don't know what it is but I feel like an empowered enchantress when I'm in my finest lingerie. My inner Leo/lioness comes out and there's no stopping her!
What do you do in the oui hours?
Ahhh in the oui hours. I'm either having the time of my life at the club, on the internet blogging and filling my brain with inspiration, eating or my favorite and the most likely of all the above options, SLEEPING!